I currently have a few patterns on the go. As summer is coming up, and the weather has already started to turn warmer, I have decided I really should do something to 'update' my wardrobe (as far as you can update a vintage wardrobe anyway...). At the weekend I began this;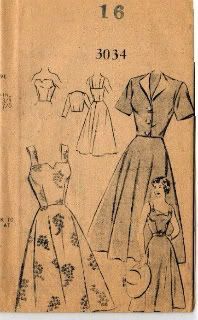 then quickly realised I didn't have enough fabric. The dress is being made in beige with a cream trim, with 2 jackets being made (one beige with cream trim, one cream with beige trim). The dress is all cut out & ready to go. I must visit the shop & get some more fabric...
Nex is my absolute pride & joy. I have been after a playsuit pattern for months & months, thinking it would be great to have one, but never really being able to see myself in one. Over the past month or so, however, I have decided that this summer I
will
have a playsuit. By chance I came across this pattern;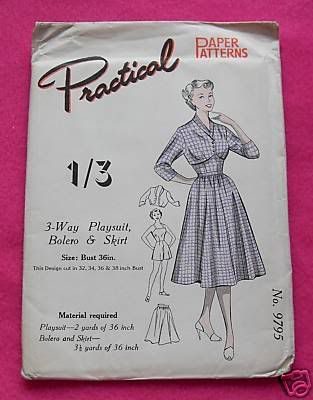 Check that!! 3 patterns in one!!! And in my size! And unopened. It seemed such a shame to open it really... I bought up some fabric today (bedsheets as usual!) in a lovely vibrant turquoise for the playsuit & black for the skirt & bolero. Not terribly summery, black, I know, but it's just really to see how it works out, plus I need more black skirts!
So far I have the skirt made, it's so easy. I was worried that it would be quite a difficult pattern to make as there are no seam allowances, and the instructions are very brief to say the least, but it is simple. The skirt was literally 2 rectangles sewn together & gathered at the top with a waistband chucked on top. Lets hope the playsuit & bolero work out so well. Pics to follow!
Lastly I want to share this picture with you. It is of my grandma & granddad on their wedding day.

I remember looking at the picture when growing up, and also the picture of my grandma when she was in the WAF, and being in awe of the lovely clothes. I absolutely love my grandmas suit here. And lacy gloves! She was a goth before goths existed ;) I think it was a combination of these two pictures that started my love of vintage. I was lucky enough to get hold of our family album on my last visit home & I love looking through it & hoping that one day I look as good as my relatives!
xdollydaydreamx